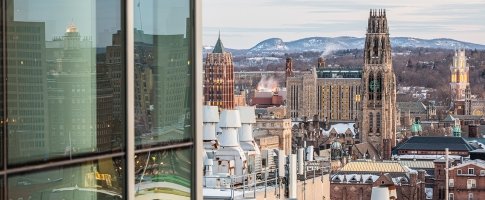 Research Strategy
Learn about the focal areas that guide Yale's research enterprise.
Research at Yale is guided by focal areas that help ensure its maximal fulfillment of the university's mission to improve the world today and for future generations:
Yale University President Peter Salovey has identified four pillars of strategic emphasis to advance the university's mission. These pillars build on the university's iconic strengths and guide investment to areas where Yale's work can have outsized impact:
The university-wide academic priorities—formalized with input from the Yale community—guide strategic investment in areas that advance the university's mission and build on its unique strengths. They align with President Salovey's vision for Yale's future and the pillars of strategic emphasis mentioned above.
Several key reports—such as from the Humanities Doctoral Education Advisory Working Group, the University-Wide Committee on Data-Intensive Social Science, the University Science Strategy Committee, and the School of Engineering & Applied Science (SEAS) Strategic Vision Final Report—chart clear paths forward for specific areas. Compiled by faculty experts across campus, they provide important recommendations for elevating cross-disciplinary work at the university and producing an outsized impact on the world.
Visit the University-Wide Academic Priorities page on the provost's website for more information and to follow their progress.